Any job, big or small – we'll get it done right!
Consistent and affordable. Includes free estimates!
4 hour package – can be purchased in advance!
20% off for 10 hour package! Best Deal!
Mobile-First, Hosting, Graphic Design, and more!
Very basic site; includes free hosting for a year!
Some content and Logo generation included.
Ask about our Accounting solutions as well!
Dedicated Marketing, Business Cards, and more!
Includes most domain names!
Need a QR code generator?PHP, JS, SASS? No problem!

Need an SMM? Someone to answer emails? We got it!
Have a killer idea? Let's make it a reality!
Whether you call it "MSP", "Helpdesk or "Tech Support", we make it easy!
1 hour SLA guarantee.
No contract required!
1 day / week on-site, extended hours, and more!
DevOps, Tech PM, Specialty work, and more!
We believe in the future of money — so much so, we'll even offer a 10% discount for all payments made with cryptocurrency!
We accept ETH, BCH, XMR, and BTC.
(Sorry, no LTC or Dogecoin!)
Not sure what all the fuss is about?
We'll be happy to show you how it works,
and even help you setup your own crypto portfolio!
We will provide an invoice for all work done, and a receipt for all payments accepted.
Check: Made to Quantum Leap Chicago or Christopher Owens.

Zelle and Paypal: owen@quantumleapchicago.com
Venmo: @owenowens

Unlike most, we gladly accept credit card payments.
If you choose to pay by card, we'll send you a payment link!
We also accept cash.
We proudly accept cryptocurrency as well, and offer a 10% discount on service items. We accept ETH, BCH, XMR, and BTC.
If you want to pay via these methods, please let us know and we'll send you a QR code or wallet address.
Hassle-free guarantee! Our payment terms are flexible, and we're happy to work with you if you need to make payments in installments or defer it for a month.
Our due date for invoices is "last day of the following month". (For example, any work invoiced in July would be due August 31st.)
Our recurring billing charges (monthly or annually for websites or recurring work) follows this due date as well; your September monthly charges would be due by October 31st.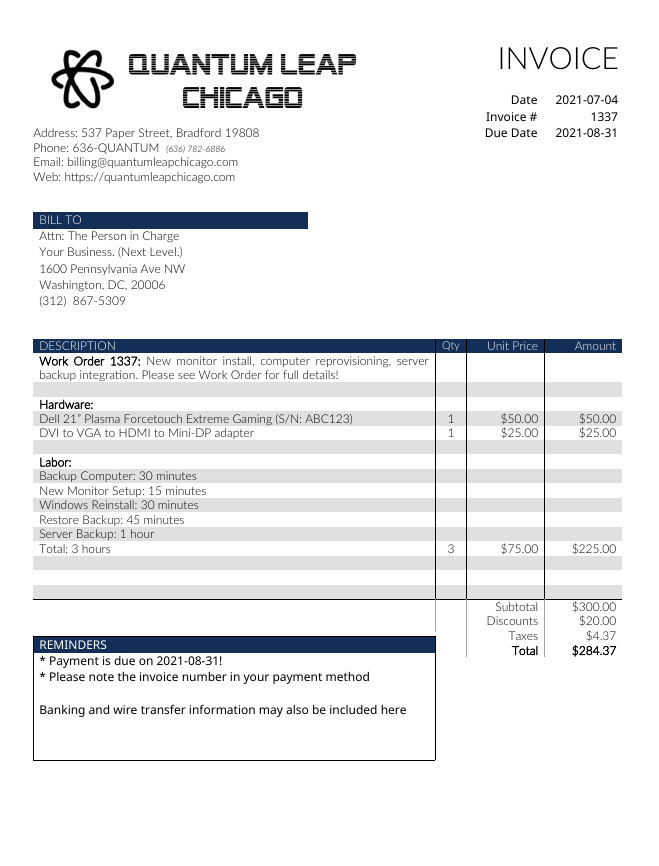 How can we offer lower prices and better service? Simple — we believe that others are charging too much and offering too little! We want to partner with you to grow your business.
We're not going to charge you more or less depending on your success or growth!
We have proven processes which allow us to do more, in less time!
30 years of experience means that we can fix your problem quickly!
Time is money, and we don't want to waste your time. We'll get it done — fast!